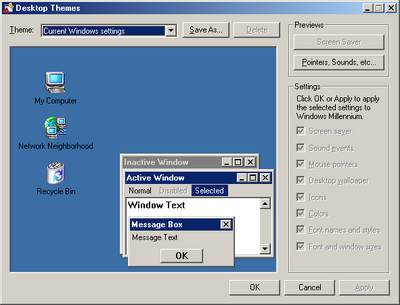 Desktop themes is an application in Microsoft Windows systems, that has it's own unique themes, first introduced in Windows 95 Plus.
List of Themes
Edit
there are the themes that it came with, including:
Baseball (not in Windows 95 plus)
Dangerous Creatures
Inside your Computer
Jungle (not in Windows 95 Plus)
Leonardo da Vinci
More Windows
Mystery
Nature
Science
Space (not in Windows 95 Plus)
Sports
The 60's USA
The Golden Era
Travel
Underwater
Windows 98 (or 95 if your using Windows 95)
Windows Default (the default theme is deferent in Windows ME though, due to the different look in the GUI)
Other... (allows you to look for other themes that is on the OS)
Ad blocker interference detected!
Wikia is a free-to-use site that makes money from advertising. We have a modified experience for viewers using ad blockers

Wikia is not accessible if you've made further modifications. Remove the custom ad blocker rule(s) and the page will load as expected.