"That's it? That was all that was in the game?! What a rip off!"

This article is a stub. You can help by adding more text to the article, and maybe even a link to the game's article on Wikipedia.
The third Gran Turismo Game in the Gran Turismo series, and the first on the PlayStation 2.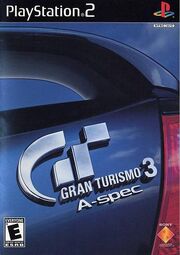 Gameplay
Edit
The gameplay is similar to Gran Turismo 2, though the amount of cars has decreased by a lot in the game, and the game does return tracks from the first game such as Special Stage Route 11. The game has a few modes, the gameplay being in both Arcade Mode and Simulation Mode (Gran Turismo Mode in Japan/Europe)
Arcade Mode
Edit
The arcade mode is similar to Gran Turismo 2's, Where if you race on the higher difficulty, you can unlock more stuff (although unlike Gran Turismo 2, where if you win on the "hard" difficulty, you unlock a reverse version of the track you won on as well as a new car, in Gran Turismo 3, the reverse version comes with the normal version.)
This is the only Gran Turismo game in the series that allows the player to access the Systems File Memory (in the PlayStation 2's case, the console's memory card.), while still in the game (as in, you can access it via main menu)
In the betas of Gran Turismo 3, Special Stage Route 11 had a design much more like it's Gran Turismo 1 counterpart.
Gran Turismo 3's original name was "Gran Turismo 2000", but due to the game getting delayed past the original release date (which was in 2000), the game dropped the name and got changed to Gran Turismo 3.
Ad blocker interference detected!
Wikia is a free-to-use site that makes money from advertising. We have a modified experience for viewers using ad blockers

Wikia is not accessible if you've made further modifications. Remove the custom ad blocker rule(s) and the page will load as expected.