"That's it? That was all that was in the game?! What a rip off!"

This article is a stub. You can help by adding more text to the article, and maybe even a link to the game's article on Wikipedia.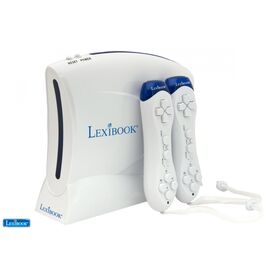 Lexibook TV Game is a game console that was released on an unknown date.
Overview
Edit
There you can pick games from many tabs on the main menu, the Tabs are Sports, Fun, Classroom and System. The menus use Go! Animate voices for when you move the cursor to an object.
Under the fun tab, there is game player, which goes to a games list of games you can choose, Puzzle bobble, Square, ball blaster, solitaire, More. More is another games list.
Game Player
Edit
The list of Games under game player are:
9 ball
Baccarat
Backgammon
Black Jack
Blazing fighter
Bomb Superman
BRICKS CLIMBER
Bubble boy
Cake Shop
Candy Bear
Caribbean stud Poker
CATE MATCH
CHEESE MAZE
Circus
Crazy Fish
Crazy Lamb
Crazy Step
Dinosuar Factory
Dr.Genius
Extreme F1
Firebolt Swordman
Five Diamonds
Flying Rabbit
Forest Adventure
Fruit Link
FUTURE WARRIOR
Gold Digger
GREEDY CAT
highway racing
HITTING MICE
Ice Hockey
Little fairy
Little Postman
Magic Rectangle
Maze Adventure
Mini Checkers
Mission 2068
Motor Storm
Mountain Biking
Move Ball
Ninga Hero
Sword Soul
Note: this list is not complete
Classroom
Edit
Under the Classroom tab, there is Art, music, picture album and More.
Under Art, there is Painting and colouring. Painting is MS Paint converted to the Lexibook. Colouring is a colouring program.
There are 3 things here, Instructions, settings and a calculator.