To do:

Add more games to the lists, also, there is a lot of info that the page is lacking, such as Gamespy shutting down Nintendo Wi=Fi Connection in May 2014, due to being bought by another company.
"That's it? That was all that was in the game?! What a rip off!"

This article is a stub. You can help by adding more text to the article, and maybe even a link to the game's article on Wikipedia.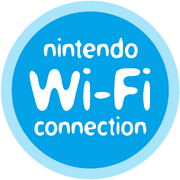 Nintendo Wi-Fi Connection was an online gaming service run by Nintendo for free online play in compatible Wii and Nintendo DS systems. It was superseded by Nintendo Network.
List of DS games that use Nintendo Wi-Fi Connection
Edit
Pokemon Platinum
Mario Kart DS
Mario and Sonic at the Olympic Games
Pokemon Black and White
Pokemon Heartgold and Soulsilver
Yoshi's Island DS (early box art shows Nintendo Wi-Fi Connection Logo, implying that Nintendo Wi-Fi Connection features were planned, but were removed from the final.)
Mario Vs Donkey Kong 2: March of the Minis
Diddy Kong Racing DS
Itadaki Street DS
Yakuman DS
Mario Vs Donkey Kong: Minis March Again
WarioWare D.I.Y
Fortune Street
List of Wii games that use Nintendo Wi-Fi Connection
Edit
Mario Kart Wii
Super Smash Bros Brawl
Mario and Sonic at the 2012 Olympic games
Ad blocker interference detected!
Wikia is a free-to-use site that makes money from advertising. We have a modified experience for viewers using ad blockers

Wikia is not accessible if you've made further modifications. Remove the custom ad blocker rule(s) and the page will load as expected.