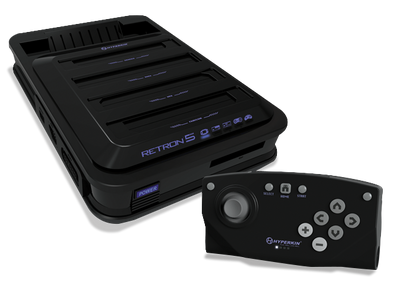 The Retron 5 is a console that can play games from NES, Famicom, SNES, Super Famicom, Sega Genesis, Mega Drive, Game Boy, Game Boy Color, and Game Boy Advance and play them in a maximum of 720p 60 frames per second. [1]
Features
Edit
Outside of what is mentioned above, The console also has ports for NES, SNES and Sega Genesis Controllers. The console also comes with a wireless controller that can play up to 25 feet away from the console, and has an SD Card slot for saves and screenshots that can be taken from the console.
Criticism
Edit
The Console is often criticized for poor emulation of games. An additional criticism of the game console that came out was that the console used emulators to run games instead of using the hardware to do so.
References
Edit
Ad blocker interference detected!
Wikia is a free-to-use site that makes money from advertising. We have a modified experience for viewers using ad blockers

Wikia is not accessible if you've made further modifications. Remove the custom ad blocker rule(s) and the page will load as expected.