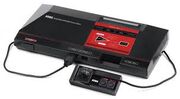 The 
Sega Master System
 is a 3rd-generation video game console released by Sega to compete with the
Nintendo Entertainment System
and the
Atari 7800
. It was released in Japan on October 20, 1985 as the Mark III, followed by a September 1986 release in North America. While technically superior to the NES, the popularity of
Super Mario Bros.
ensured that the Master System would never see a wide release in North America, and the console was discontinued there in 1992. During its run, it sold between 10 and 12 million units, far below the 62 million NES units sold. Meanwhile, in other regions, particularly Brazil, the console lives on through homebrewing. As of 2015, the Master System is currently being supported in Brazil.
A few years after the console was released, Sega released a handheld called the Sega Game Gear, which had generally better graphics. Many games from the Master System were therefore ported to the Game Gear, and certain titles (such as the 8-bit Sonic 2 and Sonic Chaos) were Game Gear-exclusive in North America, with Master System ports in other countries. Perhaps the most well known title for the console is Alex Kidd in Miracle World, but other popular games include Wonder Boy III: The Dragon's Trap and the 8-bit Sonic 1. On release date, the console sold for $200 in North America (about $432.80 in 2016 dollars).
Ad blocker interference detected!
Wikia is a free-to-use site that makes money from advertising. We have a modified experience for viewers using ad blockers

Wikia is not accessible if you've made further modifications. Remove the custom ad blocker rule(s) and the page will load as expected.