"That's it? That was all that was in the game?! What a rip off!"

This article is a stub. You can help by adding more text to the article, and maybe even a link to the game's article on Wikipedia.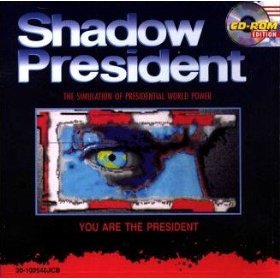 Shadow President is an MS-DOS game released in 1993.
Gameplay
Edit
You play as the president of the United States. You can do many functions as the president of the United States such as help with economic aid, help with aids in Military, Nuclear and other aid. You can also condemn other countries, go to war with them and fire nuclear weapons and much more. The game starts out with the surrender of Somalia to Ethiopia and the Iraq war.
Ad blocker interference detected!
Wikia is a free-to-use site that makes money from advertising. We have a modified experience for viewers using ad blockers

Wikia is not accessible if you've made further modifications. Remove the custom ad blocker rule(s) and the page will load as expected.