SimCity 4
is a city building/urban planning simulation strategy game developed by Maxis, and published by Electronic Arts. It is the fourth game in the SimCity franchise. In this game, the simulation is now a 3D view unlike the previous SimCity games, the urban planning tool is much easier, players can build a gigantic metropolis and are in charge of being the mayor.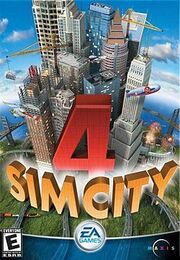 The game plays similar to the older Sims titles, but there are some new features, such as My Sim Mode, where your Sims from The Sims, can live in your City, "U Drive it" mode, where you can control some cars and helicopters in your City. Players can also create regions and Players can have their own neighboring cities. And disasters also have an improvement, where the Player can control the disaster with the mouse cursor.
Ad blocker interference detected!
Wikia is a free-to-use site that makes money from advertising. We have a modified experience for viewers using ad blockers

Wikia is not accessible if you've made further modifications. Remove the custom ad blocker rule(s) and the page will load as expected.