"That's it? That was all that was in the game?! What a rip off!"

This article is a stub. You can help by adding more text to the article, and maybe even a link to the game's article on Wikipedia.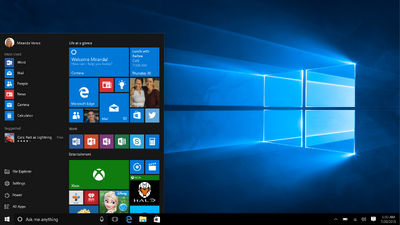 Windows 10 (Codename Threshold) is an operating system developed by Microsoft. It is the successor of Windows 8 and improves on several features. It has been released on July 29th, 2015. It is also said to be the "last Windows system", as it will go on a route of upgrading similar to Mac OS X
New Features
Edit
One major change is the re-design of the Start menu, which will have a tab with buttons similar to the Windows 8 start menu, and another side with lists similar to the Windows 7 Start menu.
There is a new assistant feature called Cortana (based off the character in Halo of the same name)
some of the icons have been updated
There are 2 modes for the desktop, normal and tablet mode.
A new Web Browser named "Microsoft Edge"
Integration with other versions of Windows 10 and the Xbox One.
Lifecycle Similar to Mac OS X
Removed Features
Edit
Ability to turn off Automatic Updates (feature does exist in pro and enterprise versions)
Criticism
Edit
While Windows 10 did get some positive reception, it was mainly criticized for the removal of the ability to turn off Automatic Updates and the operating system's data collection with Microsoft. In addition, users of Windows 7 also felt "forced" by Windows Update updating their system to Windows 10, due to a mistake Microsoft made by putting Windows 10 Upgrade in the Windows Update Recommended Updates.
Windows 10 was originally Windows 9 in development, but the name changed due to compatiblity issues with programs (programs would think they are running on Windows 95 or Windows 98.)