"It's cleanup time!"

This page is excessively messy, opinion based, or otherwise very poorly written. It will be rewritten soon and restored to the standards of the wiki thank you for your understanding.
Windows XP
(codenamed Whistler) is an operating system released by Microsoft on October 25, 2001.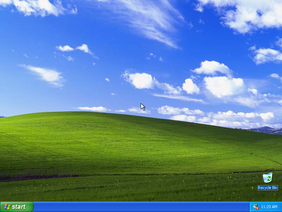 Windows XP does introduce some new features, such as a redesigned Start Menu, and some other new features. It also had a new logo and colour scheme, with a red X rather than the minimize, Maximize and Close buttons being the same colour.
New features
Edit
Removed Features
Edit
The themes from Desktop Themes for Windows 95 up to Windows ME were removed.
WebTV for Windows was Removed.
3D Maze Screensaver and Channel Screensaver were removed.
Windows Deluxe CD Player was not present in Windows XP, and was replaced with Windows Media Player.
Imaging for Windows was removed
Windows DVD Player was removed and replaced with Windows Media Player.
Drivespace was removed and replaced with native NTFS compression.
Support for non-Plug and Play Network adapters was removed.
Phone Dialer was removed (although it was present in the Whisler betas)
Scandisk was removed due to lack of support for NTFS drives.
Reception
Edit
It was complemented for the introduction of certain features, and some other stuff. Although it was criticized for removing many well-loved features of the windows line, and criticized for lack of proper security, many viruses managed to attack many XP systems at many different times.
See also
Edit
References
Edit