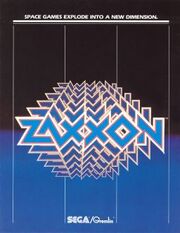 Zaxxon
is a 1982 isometric shooter arcade game developed by Sega. The object of the game is to hit as many targets as possible without being shot down or running out of fuel, which can be refreshed, paradoxically, by blowing up fuel drums. At the time of its release, 
Zaxxon
was unique among arcade games in that it used axonometric projection, which lent its name to the game (AXXON). It is also known for being the first arcade game advertisied on television, with a commercial produced by
Paramount Pictures
for $150,000 ($377,433.51 in 2016 dollars).
According to the Twin Galaxies Intergalactic Scoreboard, the highest score achieved on Zaxxon is 4,680,740 points, held by Vernon Kalanikaus of Lā'ie, Hawai'i and submitted on March 15, 1982.
Since its original arcade release, the game has been ported to numerous systems, such as the ColecoVision, Atari 5200, Intellivision, and Sega Master System. It was released on the Wii's Virtual Console service in Japan on December 15, 2009, followed by a PAL release on March 5, 2010 and a release in North America on April 12, 2010.
Ad blocker interference detected!
Wikia is a free-to-use site that makes money from advertising. We have a modified experience for viewers using ad blockers

Wikia is not accessible if you've made further modifications. Remove the custom ad blocker rule(s) and the page will load as expected.