Zoo Tycoon 2 is a 2004 business simulation game developed by Blue Fang Games, and published by Microsoft Game Studios. In this game, players can now do challenge mode where they can build a zoo with money, can continue completing campaigns and build their own zoos with more animals. It is the sequel to Zoo Tycoon. This game also has expansion packs including Endangered Species in which endangered animals are unlocked and more texture, African Adventure in which animals from Africa are added to the game, Marine Mania in which marine and ocean animals and texture packs are added, and Extinct Animals in which extinct animals and texture packs are added. There is also a Dino Danger Pack where Dinosaurs can be added to your zoo but must be tamed. All the expansion packs and Dino Danger Pack as well as the regular Zoo Tycoon 2 are all included in Ultimate Collection.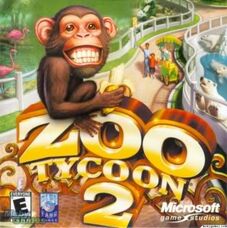 Ad blocker interference detected!
Wikia is a free-to-use site that makes money from advertising. We have a modified experience for viewers using ad blockers

Wikia is not accessible if you've made further modifications. Remove the custom ad blocker rule(s) and the page will load as expected.